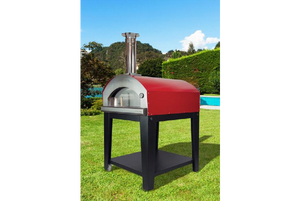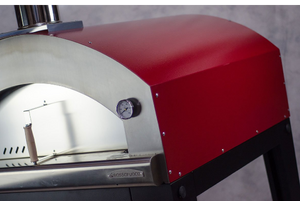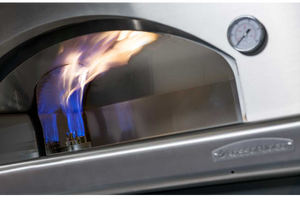 Italian Quality Craftsmanship:
With PIU'TRECENTO the pleasure of cooking becomes greater. With its cooking chamber of 80×90 centimeters this oven gives you the possibility of baking more foods at the same time, so it's easier and quicker the cooking at the open air.
You need 10 minutes for ignition and heating and just 2 more to bake great pizzas.
Characteristics:
Front panel in stainless steel, roof varnished red or brown, stand-alone cart made in stainless steel or varnished black
Discover the joy and time of bringing family together:
Our wood burning ovens express the desire to be with family and with friends – the pleasure to cook together and to eat at the open air. The pleasure of the conviviality taking care to the functionality and to the respect for the environment. Our ovens are created for all people who want to share the passion for cooking and for good food with the ones they loved. We believe that we always cook thinking about someone otherwise you are just making the food.
Also available in GAS
COLOR OPTIONS
INTERIOR VIEW
DIMENSIONS
Unit Specifications
| | |
| --- | --- |
| Unit Weight | 435 lbs |
| Unit Dimensions (LxWxH) | 38.97 x 44.88 x 21.46 in. |
Shipping Specifications
| | |
| --- | --- |
| Shipping Weight | 450 lbs |
| Shipping Dimensions (LxWxH) | 42 × 48 × 40 in |
Warranty
ALFA PIZZA OVEN WARRANTY TERMS
WARRANTY INFORMATION
ALFA REFRATTARI OVENS ARE GUARANTEED IN ACCORDANCE WITH ITALIAN AND EUROPEAN COMMUNITY LAWS.
WARRANTY
Alfa ovens have a warranty period of 2 (two) years from date of
purchase. With proper maintenance and correct use, the oven will last significantly longer than the aforementioned warranty period.
WARRANTY EXCEPTIONS
Warranty on Alfa products is considered void in the following circumstances:
1. The oven was not assembled and/or used properly.
2. The oven was damaged or tampered with in any way, both voluntarily and/or involuntarily.
3. The oven, for whatever reasons, was physically altered in any way and is no
longer in the same condition it was in when it left the factory. Any modifications of any kind will void this warranty.
4. Combustible material other than wood was used to light fires in the oven. Do not use any artificial fire or BBQ starter fluids or chemicals, artificial logs or wood or other fuels. Do not burn any plastics, food packaging, food warp or other man made materials.
5. Damage to the oven resulting from the use of chemical products inside or outside of the oven.
FONTANA OVEN WARRANTY TERMS
One year against Manufactures defects
EDIL PLANET OVEN WARRANTY TERMS
One year against Manufactures defects