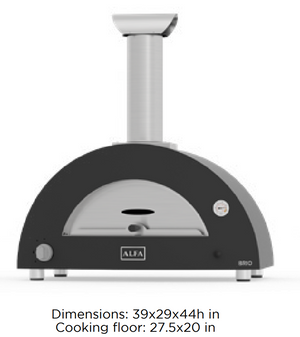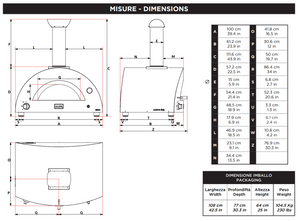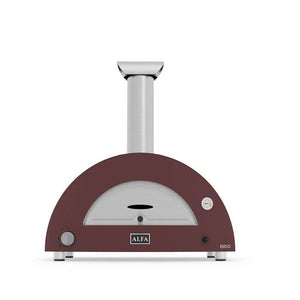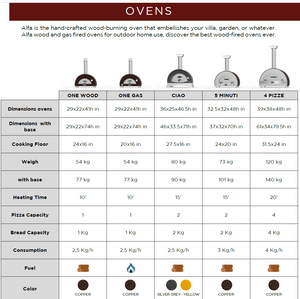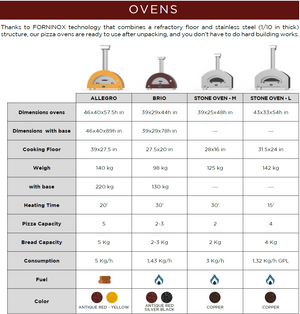 Product Overview
Alfa FXBRIO Brio 27-Inch Countertop Dual Fuel Pizza Oven provides a premium countertop Italian-style dual fuel pizza oven that combines innovative design and superior craftsmanship. The Brio oven features a high-grade stainless steel dome and patented Alfa Flue System to create a heat resistant, heavy-duty cooking area while the cooking floor contains a 3-cm thick layer of interchangeable refractory brick to offer unmatched heat retention inside your Alfa wood burning pizza oven, perfect not only for pizzas, but for bread, roasts, meat/fish/vegetables, cakes or whatever else you wish to bake. The included pyrometer helps track temperature in the oven's chamber, allowing for more simple and direct control over your cooking environment while the wood handle door allows you to adjust the air flow and control your fire. The Brio oven arrives at your home ready to cook after simply inserting the flue. Bring the taste of Italy home and enhance your perfect outdoor kitchen with help from Alfa.
Features
Stainless steel exterior and dome; 3-cm thick Refractory Ceramic cooking floor
Multi-layered Ceramic Fiber is heat resistant up to 2000 degrees Fahrenheit
Dual fuel design allows both gas and wood-fired cooking
7-layer powder coat for more heat resistance
Handcrafted in Italy
Specifications
Model
FXBRIO-GROA-U
Width
30.2 Inches
Height
22.6 Inches
Length
39.25 Inches
Height With Chimney
43.9 Inches
Pizza Capacity
2-3
Bread Capacity
4.4 - 6.6 lbs
Max Oven Temperature
1000 Degrees F
Used Material
Iron Sheet, Stainless Steel, Ceramic Fiber
Type of Refractory
Alumina Silicate Bricks
Recommended Fuel
LPG gas (G30/G31)
Gas Category
13 + GPL
Heat Capacity
71,000 Btu/H
Weight

215 Lbs
Handcrafted in Italy - 
Authentic Italian-style cooking
DIMENSIONS:
Warranty
ALFA PIZZA OVEN WARRANTY TERMS
WARRANTY INFORMATION
ALFA REFRATTARI OVENS ARE GUARANTEED IN ACCORDANCE WITH ITALIAN AND EUROPEAN COMMUNITY LAWS.
WARRANTY
Alfa ovens have a warranty period of 2 (two) years from date of
purchase. With proper maintenance and correct use, the oven will last significantly longer than the aforementioned warranty period.
WARRANTY EXCEPTIONS
Warranty on Alfa products is considered void in the following circumstances:
1. The oven was not assembled and/or used properly.
2. The oven was damaged or tampered with in any way, both voluntarily and/or involuntarily.
3. The oven, for whatever reasons, was physically altered in any way and is no
longer in the same condition it was in when it left the factory. Any modifications of any kind will void this warranty.
4. Combustible material other than wood was used to light fires in the oven. Do not use any artificial fire or BBQ starter fluids or chemicals, artificial logs or wood or other fuels. Do not burn any plastics, food packaging, food warp or other man made materials.
5. Damage to the oven resulting from the use of chemical products inside or outside of the oven.
FONTANA OVEN WARRANTY TERMS
One year against Manufactures defects
EDIL PLANET OVEN WARRANTY TERMS
One year against Manufactures defects