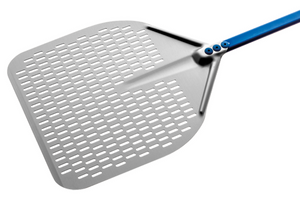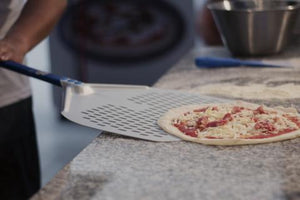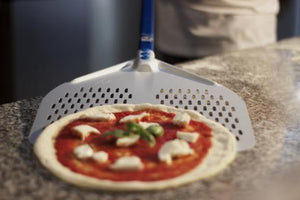 Peel with neutral anodised head and light blue anodised handle. It has reduced weight compared to classic models, but is extremely sturdy with oval tubular handle to favour stability. The light and flexible head allows the scraper effect with appropriate ribbing that ensures resistance; the neutral anodising makes the surface even and protects it against oxidation; gentle, regular milling facilitates taking hold of the pizza. The head handle joint consists in the overlay of the two elements secured by three large rivets in line that guarantee safety and no movement, in addition the absence of vibrations transmitted to the handle make it more comfortable to use. The perforation ensures low friction and releases flour preventing it from sticking to the bottom of the pizza risking burning.
Warranty
ALFA PIZZA OVEN WARRANTY TERMS
WARRANTY INFORMATION
ALFA REFRATTARI OVENS ARE GUARANTEED IN ACCORDANCE WITH ITALIAN AND EUROPEAN COMMUNITY LAWS.
WARRANTY
Alfa ovens have a warranty period of 2 (two) years from date of
purchase. With proper maintenance and correct use, the oven will last significantly longer than the aforementioned warranty period.
WARRANTY EXCEPTIONS
Warranty on Alfa products is considered void in the following circumstances:
1. The oven was not assembled and/or used properly.
2. The oven was damaged or tampered with in any way, both voluntarily and/or involuntarily.
3. The oven, for whatever reasons, was physically altered in any way and is no
longer in the same condition it was in when it left the factory. Any modifications of any kind will void this warranty.
4. Combustible material other than wood was used to light fires in the oven. Do not use any artificial fire or BBQ starter fluids or chemicals, artificial logs or wood or other fuels. Do not burn any plastics, food packaging, food warp or other man made materials.
5. Damage to the oven resulting from the use of chemical products inside or outside of the oven.
FONTANA OVEN WARRANTY TERMS
One year against Manufactures defects
EDIL PLANET OVEN WARRANTY TERMS
One year against Manufactures defects