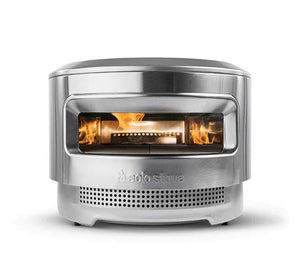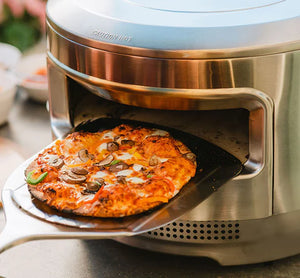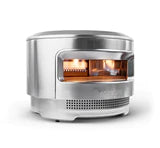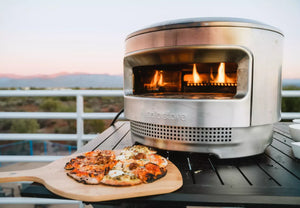 The pizza oven for everyone. Make wood-fired pizzas that impress, or bake with propane by adding on the gas burner. Pull good moments fresh from the fire with authentic design reinvented for the modern backyard. Inspired by the time-honoured traditions of Italian pizza chefs, Pi is the choice pizza oven for any backyard artisan.
HOW IT WORKS
Bake pizza after pizza with a demi dome constructed designed for capturing, keeping, and transferring heat so you can have good moments without interruption.
INCLUDED WITH THE WOOD ONLY:

Pi Pizza Oven - Backyard pizza oven with signature Solo Stove design and dual-fuel capability.

Wood Burning Assembly - Make wood-fired pizzas with kiln-dried cuts.

Cordierite Pizza Stone - Durable and reversible for years of baking.

INCLUDED WITH THE WOOD AND GAS:
Pi Pizza Oven - Backyard pizza oven with signature Solo Stove design and dual-fuel capability.
Dual Fuel Capacity - Use the included wood burning assembly or propane with the gas burner.

Cordierite Pizza Stone - Durable and reversible for years of baking.

FEATURES:
Easy to Use - Intuitive design levels the playing field for beginners and enthusiasts. Enjoy a relaxed approach to the timeless craft of pizza making, optimized for heat distribution and minimal heat loss– because you'll want to bake longer with less fuel and better results.
Dual Fuel capability is about combining authenticity and modern convenience without compromise. Pi can entertain a refined palate with wood-fired flavour or indulge in a quick week-night splurge with the convenience of propane-fueled flames.
Well-Rounded - Stone-baked pies beat oven-rack pizza every time, especially with a set-up that's just as quick and a crust that's twice as crisp. It all starts with the panoramic opening that makes manoeuvering, launching pizzas, and fueling your fire as simple as setting the table. Ease of access makes incredible pizza an everyday possibility.
Long-Lasting - Make a new tradition and trust Pi's durable stainless steel features to carry your good moments into lasting memories. Solo Stove Pi has a lifetime warranty because well-made pizza comes from a well-made oven.
PI PIZZA OVEN SPECS:

Diameter: 20.5in | 52.07 cm
Height: 15.125in | 38.42 cm
Weight: 30.5lbs | 13.83 kg
Stone Thickness: 13mm
Materials: Stainless Steel
Warranty
ALFA PIZZA OVEN WARRANTY TERMS
WARRANTY INFORMATION
ALFA REFRATTARI OVENS ARE GUARANTEED IN ACCORDANCE WITH ITALIAN AND EUROPEAN COMMUNITY LAWS.
WARRANTY
Alfa ovens have a warranty period of 2 (two) years from date of
purchase. With proper maintenance and correct use, the oven will last significantly longer than the aforementioned warranty period.
WARRANTY EXCEPTIONS
Warranty on Alfa products is considered void in the following circumstances:
1. The oven was not assembled and/or used properly.
2. The oven was damaged or tampered with in any way, both voluntarily and/or involuntarily.
3. The oven, for whatever reasons, was physically altered in any way and is no
longer in the same condition it was in when it left the factory. Any modifications of any kind will void this warranty.
4. Combustible material other than wood was used to light fires in the oven. Do not use any artificial fire or BBQ starter fluids or chemicals, artificial logs or wood or other fuels. Do not burn any plastics, food packaging, food warp or other man made materials.
5. Damage to the oven resulting from the use of chemical products inside or outside of the oven.
FONTANA OVEN WARRANTY TERMS
One year against Manufactures defects
EDIL PLANET OVEN WARRANTY TERMS
One year against Manufactures defects