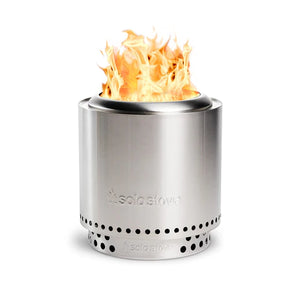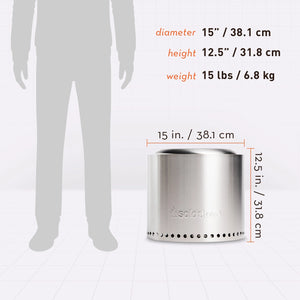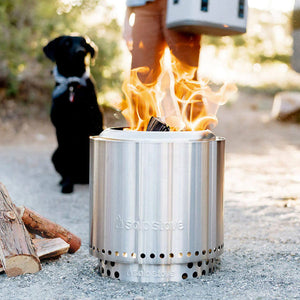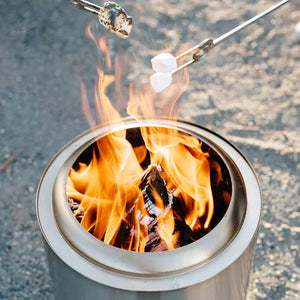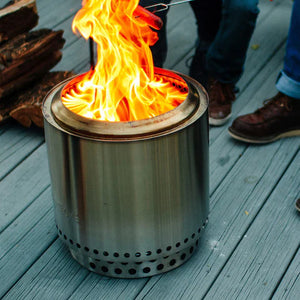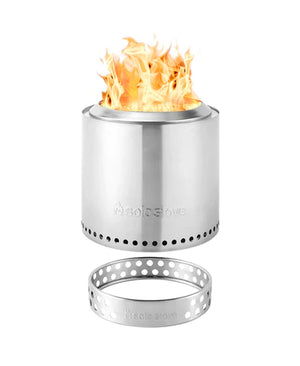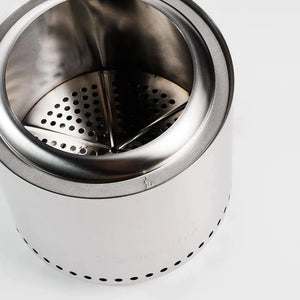 The Solo Stove Ranger And Stand offers an authentic outdoor fire pit experience in your own backyard. This portable fire pit and stand allow you to take the roaring flames with you, be it a campsite, a beach, or the open road. This product utilizes the Solo Stove's Signature 360 Degree Airflow Design to support a roaring flame with reduced smoke output.
THE PERFECT SOLO STOVE DUO TO ENJOY A ROARING FIRE, ANYWHERE.
With the Solo Stove Ranger bundle, you'll be bringing the heat to more places than ever before. Using the portable fire pit stand will raise up the flames, so you don't need to worry about damaging your grass or a wood deck. Simply place the stand where you want it, set the solo stove Ranger on top, and start building your fire.
This smokeless fire pit can be fuelled with chunk wood or small logs up to 12 inches long. Due to our Signature 360 Airflow Design, our solo stove emits less smoke than other fire pits. This design also reduces wood fuel to ash, so cleanup is quick and easy. The Solo Stove Ranger and stand are made from durable 304 stainless steel with rolled edges to keep surfaces protected from scratch marks. This ensures our portable fire pit is lightweight and easy to clean.
MATERIALS
304 Stainless Steel
FUEL
Chunk Wood
WEIGHT
15lbs | 6.80kg
DIAMETER
15" / 38.1 CM
HEIGHT
12.5" / 31.8 CN
Warranty
ALFA PIZZA OVEN WARRANTY TERMS
WARRANTY INFORMATION
ALFA REFRATTARI OVENS ARE GUARANTEED IN ACCORDANCE WITH ITALIAN AND EUROPEAN COMMUNITY LAWS.
WARRANTY
Alfa ovens have a warranty period of 2 (two) years from date of
purchase. With proper maintenance and correct use, the oven will last significantly longer than the aforementioned warranty period.
WARRANTY EXCEPTIONS
Warranty on Alfa products is considered void in the following circumstances:
1. The oven was not assembled and/or used properly.
2. The oven was damaged or tampered with in any way, both voluntarily and/or involuntarily.
3. The oven, for whatever reasons, was physically altered in any way and is no
longer in the same condition it was in when it left the factory. Any modifications of any kind will void this warranty.
4. Combustible material other than wood was used to light fires in the oven. Do not use any artificial fire or BBQ starter fluids or chemicals, artificial logs or wood or other fuels. Do not burn any plastics, food packaging, food warp or other man made materials.
5. Damage to the oven resulting from the use of chemical products inside or outside of the oven.
FONTANA OVEN WARRANTY TERMS
One year against Manufactures defects
EDIL PLANET OVEN WARRANTY TERMS
One year against Manufactures defects