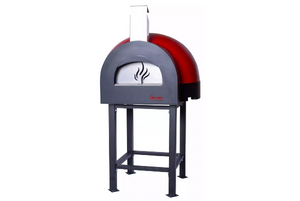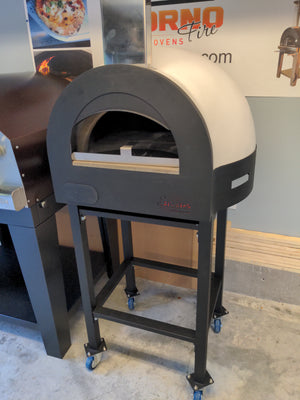 Portable and Ready to use
Subito Cotto 60 –  Portable and Ready to use is a real small wood fired oven, the dome and the hob are entirely made of high quality refractory concrete. Because of this, the oven is superior to a stainless steel wood oven, the refractory material has better thermal properties that allow to retain the temperature for longer, thus enabling to cook long after the fire or flame extinguish.
It is ideal for cooking italian pizza (2 capacity) in traditional way but also for bread, roasts, grilled fish, grilled vegetables, salad and sweet cakes.
The Subito Cotto is available also with GAS Burner KIT Accessory, Made in Italy, compatible with Natural Gas, LPG or Methane. It consumes small amounts of wood/gas and reaches the baking temperature in just few minutes, 450 C° (840 F°) in 30 minutes.
Zio Ciro "Subito Cotto" oven have an internal diameter of 60cm and is a ready to use, pre-assembled, insulated and finished. It is lightweighted and can be transported and used in small spaces such as terraces, balconies, small gardens but also indoor or outdoor kitchens or taverns.
All Subito Cotto ovens are made in our 100% artisan factory in Italy, with expert hands and high quality materials, 100% Made in Italy.
COMPONENTS
Basic cooking: 60cm
Available in colours: White, Red and Black
Gas consumption: 1,2 Kg/h (Max)
Wood consumption: 4 Kg per hour
Cooking temperature in: 30 minutes
DIMENSIONS & WEIGHT
Oven: 60 cm
120 Kg (with metal stand)
Warranty
ALFA PIZZA OVEN WARRANTY TERMS
WARRANTY INFORMATION
ALFA REFRATTARI OVENS ARE GUARANTEED IN ACCORDANCE WITH ITALIAN AND EUROPEAN COMMUNITY LAWS.
WARRANTY
Alfa ovens have a warranty period of 2 (two) years from date of
purchase. With proper maintenance and correct use, the oven will last significantly longer than the aforementioned warranty period.
WARRANTY EXCEPTIONS
Warranty on Alfa products is considered void in the following circumstances:
1. The oven was not assembled and/or used properly.
2. The oven was damaged or tampered with in any way, both voluntarily and/or involuntarily.
3. The oven, for whatever reasons, was physically altered in any way and is no
longer in the same condition it was in when it left the factory. Any modifications of any kind will void this warranty.
4. Combustible material other than wood was used to light fires in the oven. Do not use any artificial fire or BBQ starter fluids or chemicals, artificial logs or wood or other fuels. Do not burn any plastics, food packaging, food warp or other man made materials.
5. Damage to the oven resulting from the use of chemical products inside or outside of the oven.
FONTANA OVEN WARRANTY TERMS
One year against Manufactures defects
EDIL PLANET OVEN WARRANTY TERMS
One year against Manufactures defects